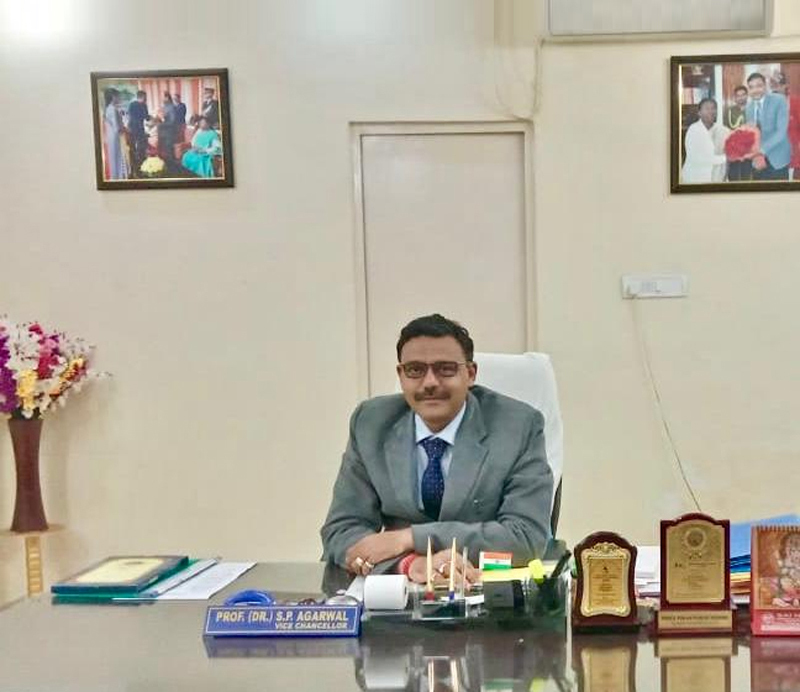 Words From The Vice-Chancellor
Geographically speaking, the flora and fauna of Jharkhand has been the power house of immense natural resources and developer of the financial upliftment through Jharkhand of India in totality. This has much to contribute to the economic richness of the country and place India at par to China on the global map with regards to the prosperity in natural resources particularly in mines and forest economy is concerned . Traditionally, Jharkhand being a tribal belt, is home of human innocence and simplicity right from its inception. Here in Jharkhand, students are migrating for higher and technical education to other states. There is a lack of trust among the students regarding the credibility of educational institution.
To fill the gap, Sai Nath University is established under Jharkhand Government Act no 15 of 2012 and recognized as per section 2(f) of UGC act 1956 with permission of the H'ble Governor of Jharkhand. Sai Nath University, as an epitome of quality education and emerging prime centre for Edu-excellence in both technical and non-technical fields with the dictum of 'come to learn and go to serve'.
It is quite relevant to put on record that Sai nath University has proved to be a 'Pillar' on the education sector to provide lead and expertise to the Jharkhand aspirants by opening all possible educational avenues for their career enhancement under an old saying 'charity begins at home'.
This university is situated in the serenity of natural scenic beauty, spread in about 35 acres of land and possessed with all fundamental and modern infrastructural facilities for students coming from both home and abroad. It has been running different Programs smoothly and successfully like Education, Physical Education, Engineering, Legal Studies , Pharmacy, Nursing, Mining, and Agriculture amongst many others. Sai nath university is not only attracting the students from Jharkhand but also from other states like Bihar, West Bengal, UP, Orissa, Chattisgarh and even neighboring country like Nepal etc. to fulfill their dream career.
As per the performance and achievements of Sai Nath University, it has recently been awarded with Best Upcoming University award at Indo Nepal Harmony Summit. Besides, the University has also distinctively been contributing socially, economically culturally and spiritually for the development of the state.
The University believes in over all personality development of the students for which many programs organizes from time to time like State Level Chess Championship, Miss Teen Jharkhand, NCC Camp etc. besides annual sports and other regular co-curricular and culture activities. A full fledged Training & Placement Cell is ever ready to train and place the students of different programs.
I would like to take this opportunity to extend my warm welcome to all aspiring students coming from different parts of the country and I am sure that their stay at University will be comfortable and fruitful. My blessings to all my students!
Prof. (Dr.) S.P.Agarwal
Vice Chancellor
Sai Nath University